Robust en stylish
The use of robust materials such as wood and steel creates this rustic and rugged look. A typical RM look, but with a modern twist. The recycled wood, old steel and dark tones in both furniture and accessories give the industrial touch. Thanks to the sophistication, the look is rugged but, at the same time, contemporary, luxurious and comfortable.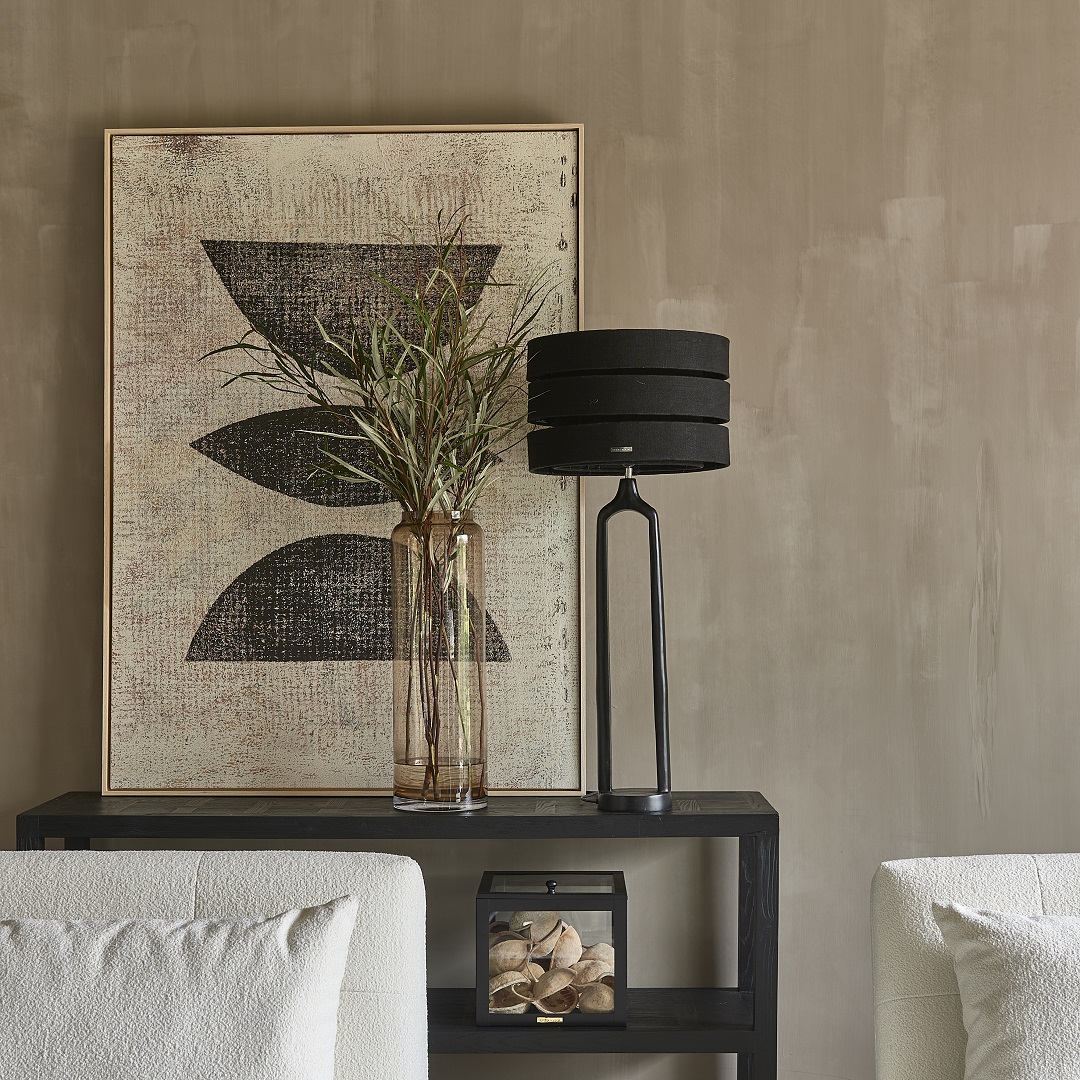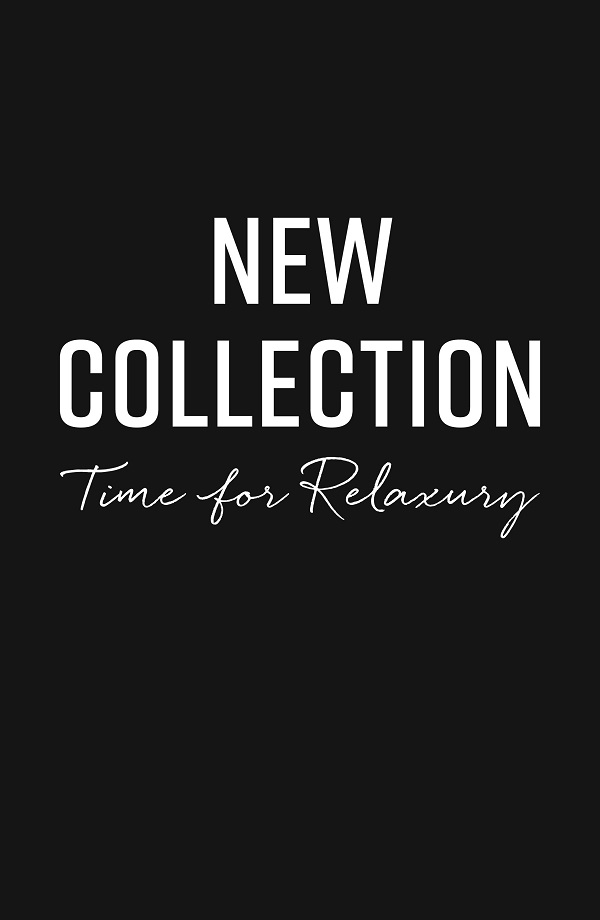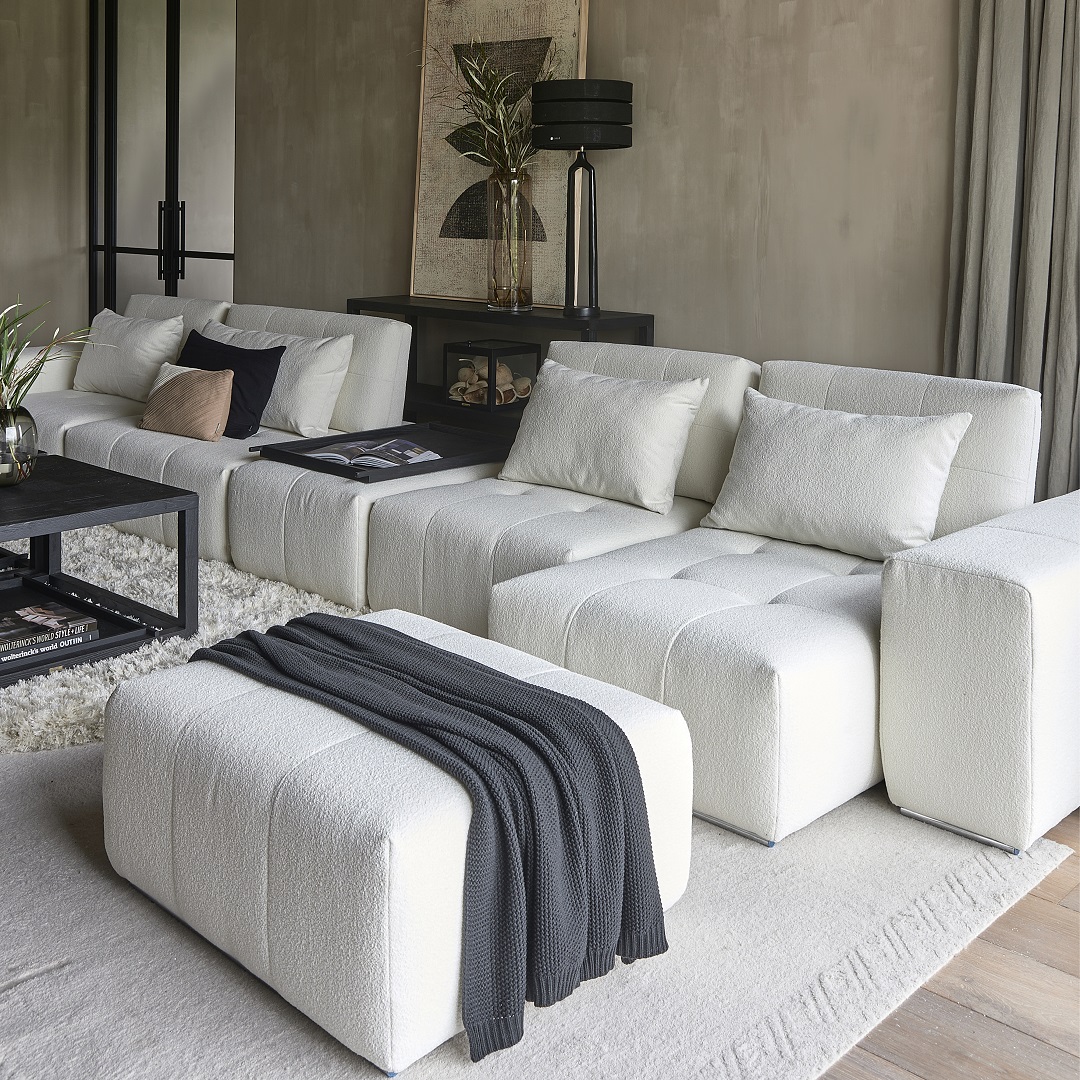 Cool & warm nuances
This collection uses a lot of cool materials such as steel and wood. With an industrial decor style, it is important to find the right mix of materials to create a warm atmosphere. Add warmth by choosing soft bouclé, wool or leather. The same goes for colours: alternate dark tones with light and atmospheric nuances. The combination of these materials adds the ultimate rugged and cosy RM feeling to your decor.
Contemporary mix
A mix of design, old details and modern accessories will give your home a real loft vibe. Choose accessories with surprising structures, like the pleated decorative cushions and metal candle holders. Bring warmth into your home with cosy mood lighting and soft rugs.

---
Think big!
The Mark Sofa
Generous, versatile, comfortable and a feast for the eyes too; The Mark Sofa fits perfectly into any decor. That's because this modular sofa can be assembled entirely in the colour and material to create the sofa of your dreams. With the four separate elements, you can make the sofa as small or as large as you want. A real plus is that the backrest is adjustable from a sitting to a lounging position, giving you lots of different seating options.
Why we love it
We're a fan of The Mark Sofa, that's why we love it
Compose to your liking

Adjustable backrest

Versatile & comfortable

Fits perfectly in any decor
Rustic look & feel
Tough is the keyword of the furniture in this collection. You can create a unique and rustic look by using sturdy materials like recycled wood, leather and steel. Add recycled wood to your decor for that added industrial touch. The Hemingway Flatscreen Dresser and the Falcon Crest dining table exude that industrial atmosphere and add a characteristic look to your home.

---
The Marciana Electric Sofa
With its padded backrest, soft cushions and a left- or right-oriented chaise longue, this sofa is designed for comfort. Besides being extremely comfortable, the Marciana Sofa has a trendy, industrial look due to the stitched diamond pattern and the scottisch suede upholstery. The backrest is electronically adjustable, allowing for many seating positions.
Why we love it
We're a fan of The Marciana Electric Sofa, that's why we love it
Sturdy appearance

Electronically adjustable

Comfortable, family sofa

Different models
Discover our other collections
---