This dinner service will bring a piece of the South of France into your home. The Aix en Provence dinner service is a hip service series made of porcelain. And the complete service is made by hand, so it's Unique & Handmade. This bold dinner service has various plates, platters and bowls in delightful green and grey hues. Mix & match your favorites!
HANDMADE IN PORCELAIN
Many items at Rivièra Maison are handmade. Including this crockery collection. Each product is unique and made by hand in workshops spread all over the world. Handwork means that no two products are exactly the same, and that's precisely what makes this collection so special.
MIX & MATCH
Natural colours based on the Mediterranean Sea are mainly used in this series. These colours range from turquoise, grey-brown and natural tones. The turquoise tableware adds colour to your table, the grey-brown tableware adds a warm touch, and completes the look with crockery in natural tones. All these colours combined form a beautiful whole, and that is why we say: MIX AND MATCH!
---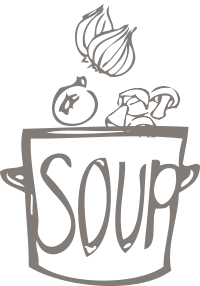 Recipe
Pumpkin soup
for 2-4 people
Ingredients
250g orange pumpkin, peeled and diced

1 large onion

15g butter or margarine

1 tsp mild curry powder

1/2 l (chicken) stock

1 bay leaf

a dash of milk

a dash of ketjap manis

1/2 bunch parsley, finely chopped
Preparation method
Peel and chop the onion. Heat the butter or margarine in a large saucepan and fry the onion for a few minutes. Add the curry powder and the cubes of pumpkin and let everything simmer for another 5 minutes. Add the stock and bay leaf and cook the pumpkin with the lid on the pan for about 5 minutes.
Remove the bay leaf and puree the soup with a hand blender. Bring the soup back to the boil, and add the milk. Season the soup with pepper and ketjap manis. Stir in the parsley and serve immediately. The parsley can be replaced by dill, celery or dried basil.